The OFFSTAGE Theatre Group recreate the anarchic and deliciously surreal cult comedy show that laid waste to BBC Radio in the 60's and 70's. It's a 'Greatest Hits' compilation of original material by Graeme Garden and Bill Oddie, performed on stage in classic radio comedy style with a live band and sound effects. This knockabout show celebrates the radio series that gave birth to The Goodies and Monty Python's Flying Circus - not to mention I'm Sorry I Haven't A Clue.

It's full-frontal radio, live on stage, so stand by for wicked parodies, glorious puns and manic songs (with the unmissable strains of the Angus Prune Tune assaulting your ears and wafting up your nose).
From Professor Prune and the Electric Time Trousers to ever-frisky Lady Constance de Coverlet, this is a chance to meet - or happily catch up with - much-loved characters first created by Tim Brooke-Taylor, John Cleese, Graeme Garden, David Hatch, Jo Kendall and Bill Oddie.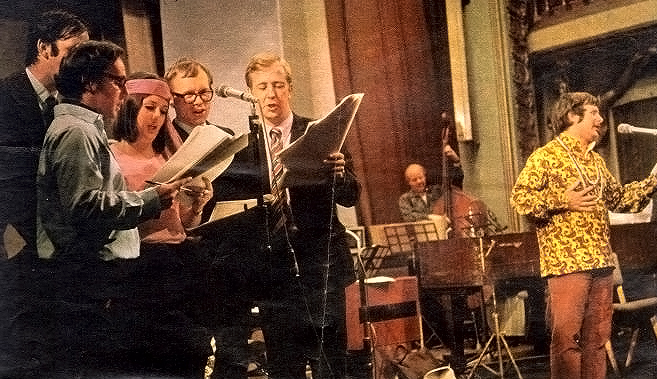 The original stars and writers of 'I'm Sorry, I'll Read That Again!' - Graeme Garden, Tim Brooke-Taylor and Jo Kendall - will be joining us on stage at selected venues (see below). We'll also have BBC Radio 4's Mitch Benn with us too.

Our theatre programmes, sold at each venue, will be packed full of memories of the show (by John Cleese, Graeme Garden, Jo Kendall, Eric Idle, Humphrey Barclay, Ben Hatch - and with more to be added). You may want to put some pennies aside to grab a copy when you come to one of the shows!
VIEW THE BRAND NEW TRAILER HERE
'I'M SORRY, I'LL READ THAT AGAIN... AGAIN!'
TOUR 2017
All Venues and Booking Information...

Friday 17th March (£16.50 / £14.50) 7:45pm
CHIPPING NORTON THEATRE, Chipping Norton
With Graeme Garden & Jo Kendall
Box Office: 01608 642350
Website: www.chippingnortontheatre.com

Thursday 6th April (£14 Ticket / £25 Meal & Ticket) 8:00pm
BATH KOMEDIA, Bath Comedy Festival
With Jo Kendall & Mitch Benn
Box Office: 0845 293 8480
Website: www.komedia.co.uk

Saturday 29th April (£14 / £12) 8.00pm
ARTRIX, Bromsgrove
With Tim Brooke-Taylor
Box Office: 01527 577330
Website: www.artrix.co.uk
Wednesday 3rd May (£14) 7:45pm
MALVERN THEATRE, Malvern
With Tim Brooke-Taylor
Box Office: 01684 892277
Website: www.malvern-theatres.co.uk

Friday 19th May (£17 / £16)
THE COURTYARD, Hereford
With Mitch Benn
Box Office: 01432 340555
Website: www.courtyard.org.uk/

Friday 9th June (£16) 7:30pm
WYVERN ARTS CENTRE, Swindon
With Tim Brooke-Taylor
Box Office: 01793 524481
Website: www.swindontheatres.co.uk

Friday 23rd June (£15) 7:30pm
HUNTINGDON HALL, Worcester
With Tim Brooke-Taylor
Box Office: 01905 611427
Website: www.worcesterlive.co.uk

Friday 7th July (£12) 8:00pm
THE SAVOY THEATRE, Monmouth
With Jo Kendall & Mitch Benn
Box Office: 01600 772467
Website: www.monmouth-savoy.co.uk

Friday 14th July (£14) 7:45pm
THE PLAYHOUSE, Cheltenham
With Tim Brooke-Taylor & Jo Kendall
Box Office: 01242 522852
Website: www.cheltplayhouse.org.uk

From the scripts by Graeme Garden and Bill Oddie
(Additional Material by Barnaby Eaton-Jones)

Musical Songs by Bill Oddie
Angus Prune Tune by Dave Lee, Leon Cohen, Humphrey Barclay and Elisabeth Evans
Adaptation by Barnaby Eaton-Jones (with Jem Roberts)
Produced by Barnaby Eaton-Jones
Directed by Kim Jones
Executive Producer: Dirk Maggs.

Starring Hannah Boydell, Will Browne, David Clarke, Barnaby Eaton-Jones and Ben Perkins (with Gareth Ricketts in Chipping Norton) as 'The Wonder Team'.

Featuring live music from Mark Aitchison, Andrew Farrington, Andy Rushton and Paul Wood as 'Andy Farrington & The Boys'.
Graphic Design by Colin Brockhurst
Artwork by Gary Andrews

With grateful thanks to Graeme Garden, Bill Oddie, Tim Brooke-Taylor, Dirk Maggs, Jem Roberts, Jo Kendall, John Cleese, Ben Hatch, Humphrey Barclay, Elizabeth Lord, Eric Idle, Mitch Benn, Penny Rainford and Andrew Pixley.